Nel rapporto annuale 2021 di Dam Removal Europe, presentato recentemente al 7° seminario Dam Removal Europe "Connected Rivers" a Lisbona, si rende noto che sono stati rimossi almeno 239 sbarramenti lungo corsi d'acqua europei – un numero mai raggiunto prima!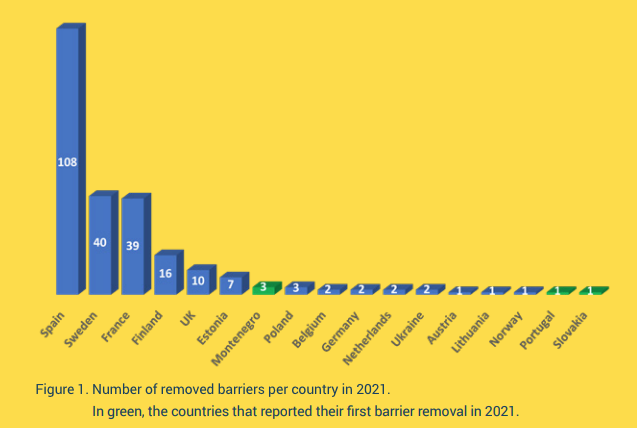 La Spagna da sola ha rimosso più barriere (108) nel 2021 che tutti gli altri Paesi europei messi insieme nel 2020 (101).
Portogallo, Montenegro e Slovacchia hanno inaugurato nel 2021 la loro prima rimozione. In Finlandia si è registrato l'intervento di maggiore importanza, con lo smantellamento di una diga idroelettrica di grandi dimensioni e ancora potenzialmente funzionante.
L'Italia risulta purtroppo essere il fanalino di coda d'Europa, non avendo registrato alcun intervento di rimozione.
"Spain, France, Denmark, Finland and the UK are blazing a trail. There are other countries that need to make strong efforts to start, such as Italy, Portugal and Greece, and almost all countries in eastern Europe, where many proponents of dam removals are still afraid to openly talk about it."

Fernández Garrido
Il cambiamento in atto per la rimozione delle dighe e il ripristino fluviale è quindi ancora nella sua fase iniziale in molti paesi, tra cui il nostro: l'argomento è ancora considerato molto controverso.
Qui potrete leggere il rapporto annuale completo del progetto Dam Removal Europe, portato avanti dalla World Fish Migration Foundation: